Historical Sewing Forum
(which you should join if you're into the 18th C and haven't already) I dug around a little, and found some tidbits about what a polonaise actually might have been.
Here's a passage from Waugh's Cut of Women's Clothes page 73:
Though this term is often applied to any 18th century dress with back drapery it belongs, strictly speaking, to an over dress that appeared c. 1775. This was cut like a man's coat of the same period, with centre back and two far-back side seams all terminating in inverted pleats, the front being in one piece with an underarm dart. It was caught to the top of the bodice centre front, and fell back into slight folds shewing a tight-fitting bodice or corsage, and the petticoat. The side seams of the skirts had tapes, or rings through which tapes could be threaded, to loop the material into puffs.
So the bunching of the skirt seems to have been optional, and yet nowadays any bunched dress is called a polonaise. Oh the irony...
I won't risk copyright infringement by scanning the pattern, but there are patterns for these 'real' polonaises on pages 94 and 96)
From "18th-century French Fashions in Full Color" by Blum:
Polonaise. A robe with skirt fronts pulled back to form three coattail sections which are held up by ties or drawstrings. It is worn over a matching or contrasting skirt having a flounce or deep border around the hem.
Polonaise á deux fins i a gown with a skirt back made to be worn either draped up or released to hang in a train (thus, "two-purpose polonaise").
Robe á la Reine or á la polonaise. In fashion from 1776 to 1787, this robe consisted of a bodice with an attached overskirt whose fronts were pulled back to show the underskirt. Often the cords that drew up the overskirt were decorative and ended in rosettes or tassels. The bodice was held in place at the top with a pin (agrafe) covered by a bow (parfait-contentement). The ceter was left open to show a vestee. The robe had short split sleeves and was richly decorated.
So after reading this and scrutinising all polonaises in the 'Galerie' that I could find, I'm surmising that none of them were draped up anglaises with a fitted back but had the pleated jacket style backs.
Polonaise was not the name for the draping but for the style in which the back was cut
. Therefore a caraco could be á la polonaise and not be draped at all; while a dress could be either made to be draped, generally called a robe á la polonaise; or be made to be either draped or not, called polonaise á deux fins since it could be used both ways. They all seem to have had curved edges on the sides, and all of them seem to have been worn over petticoats with rather large flounces or borders.
Here are three examples of a fashionplates (and I hope I don't end up in hell for posting these...)
First up is the caraco á la polonaise where you can clearly see the back seams, and nothing is draped up.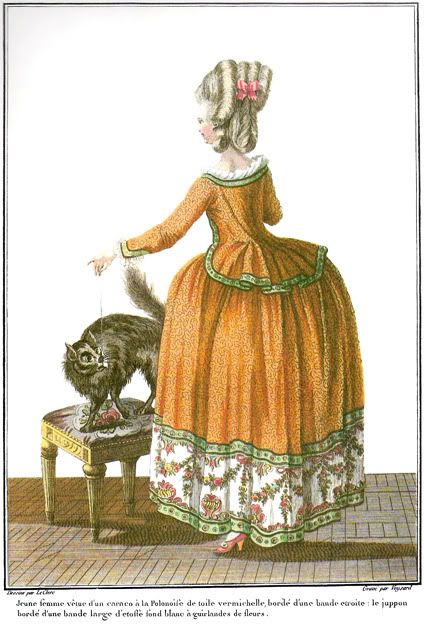 Then the robe a la polonaise where you can sort of see that the front isn't as fitted as an anglaise and is one with the skirt. This one is made to be draped and looks like it would never be undraped. I also noticed that this bunching up doesn't look very much like the pouffy draped up anglaises - it's more draped than pouffed, if you see what I'm getting at. ;)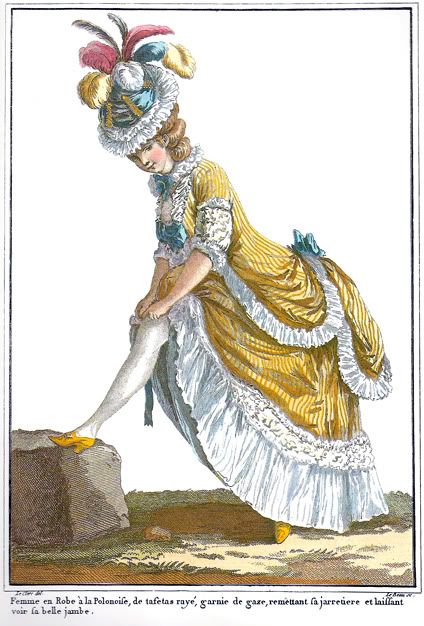 And at last the polonaise á deux fins which apparently was made to be either draped or not, and is shown undraped here. If I hadn't read the description I'd have taken this for an ordinary anglaise that could be draped up, but I don't see the seams in the back so I'll trust Mrs Blum.
So, is a polonaise as we know it not really a polonaise? Did some historian at some point assume that because most polonaises were draped, that polonaise refered to the draping and not to the style of the cut?
The little polonaise that couldn't?
I'd love to hear others' thoughts on this!
I've always called draped up skirts from the 18th C á la polonaise, and for simplicity if anyone would ask, I'd say that a polonaise was a draped up anglaise. I had assumed that the á la polonaise refered to the style of draping, but it seems I (along with the majority of the costuming community) might have been wrong. Sparked by a discussion brought up on the