Hello?
1-2-3?
Yeah, I fell off the earth I know. In my defense I've been reading all of your journals pretty much every day, but with a small child and life, the universe and everything there's been precious little sewing going on and even less writing about it.
But with the Historical Sew Fortnightly (which I tried and failed at) turning into a ...Monthly I thought I'd give it a go. In classical me style I still failed to post about the first two challenges even though I completed them on time... ;)
But here they are, in all their glory!
The first, for the January challenge Foundations, is a Viking serk or underdress for Kidlet. It's the softest wool flannel ever, not so period, but I wanted her to have something soft as a base layer. It's all handsewn with waxed linen thread and all seams are felled. It's actually quite a bit longer with a 20 cm deep hem so it will grow with her.
Then the smokkr or apron dress for the February challenge, Blue (yes it's blue/grey, but photographs very grey). It's made from scraps from my dress, which happened to have the exact right shapes and proportions (love geometric shapes of early clothes) so no cutting, and best of all, no waste! All handsewn with felled seams. Fastened with tortoise brooches from Historiska Fynd.
I lost some momentum after having rocked the embellish challenge. I don't think I've ever finished a dress in two weeks before and I felt really proud. The next two challenges, peasant and accessories, were already written in the stars - the 15th c french working class dress and a matching hood I'd planned for ages. These two I had meant to hand sew, though.
This takes more time.
Go figure.
Having just finished them this weekend (more on them later), I was determined to get back on track, and instead of the viking apron dress I had planned for the sea challenge due this weekend, I decided to whip up a quick project in order to catch up and finish on time.
So I made a cute little viking midnight ocean blue Dublin hood from some wool scraps. By hand, but it only took 2 hrs to cut and sew.
The Challenge: Sea
Fabric: midnight ocean blue wool scraps
Pattern: from Dublin grave findings, just a square and tube ties
Year: 10th c
Notions: linen thread, wax
Historical accuracy: I curved the bottom line slightly, so 95%
Hours to complete: 2
First worn: not yet
Total cost: stash, so nill
I've been meaning to make a 15th C french working class dress for several years, since first discovering it in the ambiguous line drawing in Thursfield's Medieval Tailor's Assistant. Shortsleeved and front-laced, it's not a pretty princess dress but it's very adjustable sizewise, it's great for outdoor events, can be dressed up warm with sleeves and hood if needed, and looks super comfy. And I've become very fond of simpler handsewn garments, beauty in simplicity. When the Peasants and Pioneers challenge came up in the HSF, it was just meant to be!
Last fall I bought a remnant piece of a gorgeous blue wool, and have been kicking myself that it was just a couple unfortunate centimeters too short for this project, but then I realised that I could just add a scrap piece at each shoulder without it looking too weird, and after all, piecing is period!
To accessorise it I will make the ubiquitous red hood and a tasseled pouch, and I already made the tailed cap for the first HSF starter challenge.
The first picture is a detail of the Shepherd's dance, from A Medieval Book of Seasons and is the one that's copied in MTAssistant. The second one is a detail of Les très riches heures du Duc de Berry, 1412. And then my fabric =)
Here's
the rest of my Pinterest album of inspiration.
Historical Sew Fortnightly Challenge: Embellish (velvet ribbons to get the classic pink florentine look)
Fabric: Mother in law's gorgeous mystery curtains from the 80s, wool sleeves
Pattern: Draped bodice, drafted sleeves and rectangular skirt
Year: 16th century
Notions: velvet ribbons 15 meters
Historical accuracy: based on several paintings, but mostly machine sewn, only trim and cartridge pleats by hand
Hours to complete: Two weeks of spare time
First worn: 23 Feb
Total cost: €17 for the velvet trim, fabric from stash
The skirt is 4,5 meters wide and cartridge pleated to the bodice. The bodice has two sturdy interlinings and linings (from another old curtain(!)) and I think I got away with not using hemp cording since the skirt is quite heavy and I'm wearing a flattening sportsbra. The wool sleeves tie on using velvet ribbons, but can be left off, and then the ribbons fly free a la Campi's fruitseller. Those ribbons and my real camicia/shift are missing in the "wearing" picture.
Based mostly on
and
The rest of my Pinterest album of inspiration is
here
(
More pics and info
Collapse
)
I had first intended to make the Kampfrau slashed guards for this challenge, but figured that dress would be too warm for the indoor event this weekend. This project was a bit quick and dirty, but it had been on my wish list for a few years and after all the handsewing I've done lately I really enjoyed a joyride on the machine ;o)
And I got to be a pretty pink princess....
I finished the flemish overskirt for the ufo challenge. Whoop whoop! It needed hemming, closures and a repleating of the skirt. And now it needs its picture taken ;o)
Onwards and upwards! I have started up a new multipurpose shift for the Underwear challenge, and was planning on starting the Kampfrau for the Peasant challenge. But then I realised that the event I'm going to at the end of Feb is indoors and both the kampfrau and flemish may be too hot.

So I thought I might pick up an old de-stashing idea and make a Pink Florentine. I have tons of pink curtains from my mother in law, and because the bottom of the curtain is hemmed the skirt will be really quick, and the velvet ribbons could pass for the Embellish challenge.

Now I just can't decide whether to go with my original plan to make it smooth front with side lacing (will need a new pattern re-worked from flemish) or to use the front-closing pattern I made for the upcoming Kampfrau (would be good to try out it out with free fabric, but I don't think it's as pretty).


Smooth front?


Or front-closing?
So another year has passed and apart from the Historical Sew Fortnightly pledge, I haven't posted anything since my last year in review, and that pretty much reflects my sewing... :/
Kidlet has just taken up all of my time, and I so admire all of you sewing moms! I just haven't found the energy for sewing and certainly not for blogging about the few things I made. Nor take photos, sadly, except Kidlet's dress below. But here they are in their solitary glory:
Finished projects this year
• 10th C linen dress for Kidlet JUNE
• 16th C Florentine for friend's 5 year old JULY
• 10th C handsewn viking jacket for Jo MARCH - JULY
• 20th C Titanic green gown NOVEMBER
Mainly all sewing was done during the summer. The handsewn viking jacket took ages so in all fairness I did do quite a lot of sewing in the summer months. I started out on a few other things that are now in the UFO pile though - a 16th C Kampfrau, a new shift, an underbust corset and some 18th C stuff. I also tried to teach myself Nålbinding, with limited success so far.
I had dubbed 2012 the year of Downscaling however, which I managed all too well ;o)
2013 - the year of FOCUS!
I'm really going to give the Historical Sew Fortnightly a try this year! I need challenges and deadlines, and I hope this will give me some momentum, and hopefully also get me to log it.
Wishes for 2013:
• 16th C
Kampfrau
• 16th C flemish, finish off and make some changes
• 15th C french working class
• 18th C something P (pierrot/pet-en-l'air/polonaise)
• viking for Kidlet
Anything else will be a bonus =)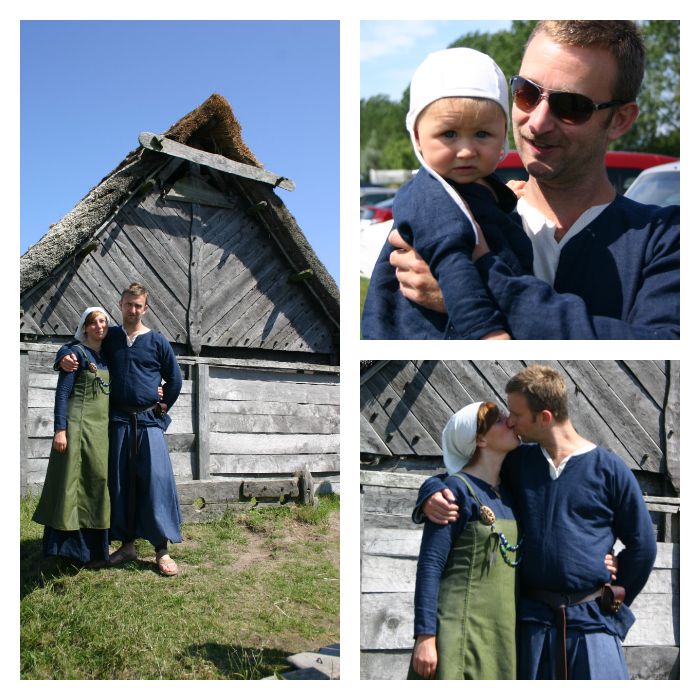 Here's a little collage from when we visited the viking reserve at Foteviken this summer. It was too hot for Jo's new viking jacket, so Jo and I are both wearing last year's costumes (which I may not have shared pics of anyway ;o) ) but Kidlet's wearing one of the 3 things I made in 2012. =)
All of them are handsewn.
(If you're interested, here are my reviews from
2007
,
2008
,
2009
,
2010
and
2011
I've decided to join the Historical Sew Fortnightly to get a kick in the butt sewing-wise (let's face it, I've been quite idle in that department lately...)
There's a new challenge due every other week, but they're announced 7 weeks in advance so you can use as much time as you want, and make as many or as few as you want.
http://thedreamstress.com/the-historical-sew-fortnightly/
https://www.facebook.com/groups/144492112368133/
The Challenges:
#0 (the bonus challenge): Starting Simple - due 31 December.
A hand sewn linen 15th C long tailed cap, see further down in the post.
#1: Sew something from __13 – due 14 Jan.
skip in order to focus on #2
#2: UFO - due Jan 28.
Hell yeah! I have loads of unfinished stuff. Maybe the flemish?
#3: Under it all – due Feb 11.
Either a new shift, or the hemd for the kampfrau
#4: Embellish – due Feb 25.
The decoration on the kampfrau maybe
#5: Peasants & Pioneers – due March 11.
Either finish kampfrau or 15th c French working class
#6: Stripes - due March 25.
Love stripes! Perhaps this will the dawn of the pet-en-l'air I've hoarded fabric for a few years
#7: Accessorize – due April 9.
Undecided
For the first Bonus challenge
I made a 15th C long tailed cap, hand sewn with waxed linen thread.
Fabric: From my linen scrap stash
Pattern: Made up the pattern myself after looking at lots of other recreations and paintings, gathered on my pinterest page:

http://pinterest.com/

vanityfairy/

15th-c-french-working-class

/
Year: 15th century
Notions: waxed linen thread
Historical accuracy: To the best of my ability.
Total cost: €0
Hmm, yes, hi, I'm alive.
Not much of a review this year, I've been mostly below the radar...
I found out in early spring that I was pregnant, a surprise, but a good one. It was a quite difficult pregnancy with me being on sick leave for a few months, and when our beautiful baby girl (lovingly nicknamed Kidlet) was born in October she didn't leave me with any spare time for costuming either ;o)
But of course she's oh so worth it! =)
Fortunately I didn't set any written in blood goals for 2011, only listed a few
hopes
, two of which I actually made, and then some other few tidbits for our Tolkien society event Bokskogen and some baby stuff (none of which I ever posted about, sorry, but it's coming).
Finished projects this year
• 18th C kci redstriped jacket FEB
• 10th C handsewn viking underdress (room for baby bump) JULY
• 10th C handsewn viking apron dress (room for baby bump) JULY
• 10th C undershirt for Jo JULY
• 10th C viking tunic for Jo JULY
• 10th C viking pants for Jo JULY
• 10th C handsewn shift for Kidlet NOV
• 2 breastfeeding pillows NOV
• baby mattress cover DEC
I had dubbed 2011 the year of Simplifying, I didn't want any must-dos, obligations or expectations to kill my sewing mojo, but as it turned out I didn't get very much use of that resolution anyway... ;o)
2012 - the year of DOWNSCALING!
I'm really going to lower my own expectations this year!
However, we do have a jubilee for the Tolkien society so I'm hoping to crank out at least one fancy costume each for Jo and me.
Wishes for 2012:
(
S
=stashed fabric)
• 16th C
Kampfrau
for the jubilee
• 16th C
Sture suit
for Jo for the jubilee
and IF IF IF there's more time and energy it would be nice to make
• 16th C flemish some last changes
• 10th C viking jacket for Jo
• 15th C french working class dress
• 18th C pet en l'air or pierrot
(If you're interested, here are my reviews from
2007
,
2008
,
2009
and
2010
With my lack of updates you'd be guessing that nothing's getting done over here, but that's actually far from the truth, I've just devoted my precious time to sewing instead of updating. At this point the lining of the jacket is done, meaning that the patterning has been tweaked and adjusted into perfection for the outer fabric.
I did make a muslin first, this was based on a slightly altered version of my trusted 18th C bodice pattern.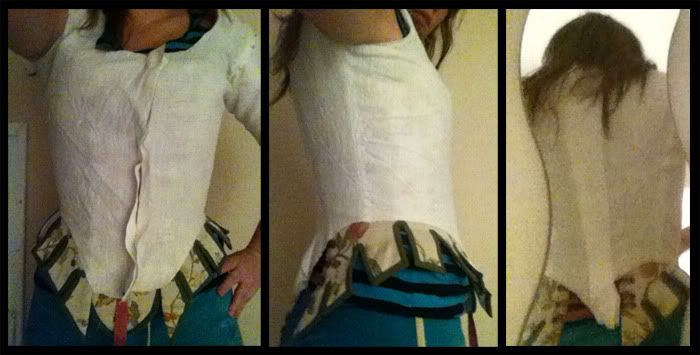 The fit worked well, so then I went ahead and made some changes to the pattern to get the characteristics of the jacket - the overlapping front bodice with a wider CF bottom, the small skirt at the back, and slightly higher neckline etc. I tried that on the lining straight away since they weren't major changes and I do have plenty of that fabric. This was last weekend and all was hunkydory.
Then came monday, bringing teh Sleevils. Sigh. My first (ever) attempt at making a twopart long sleeve turned out awful. The angle at the elbow was too small and the width was too generous and the whole thing fit horribly into the bodice armscye. So on tuesday night I started drafting a new pair, a Franken-pattern that is based on the onepart short sleeve that I'd previously drafted to use with the original bodice (because then at least I knew it would fit into the scye), with a lot of guesswork and trying to imitate the twopart sleeve for the pierrot in "Kvinnligt Mode". The good thing is that I can now use this sleeve pattern for when I make that pierrot, in some other life.

I first tried out that new sleeve pattern by pinning the pattern (drawn on a plastic bag) on my arm, and after that made it up in the lining fabric. It worked out great. Now they are attached to the bodice and I'm ready to get started on the striped silk outer fabric.
In between, I've also worked on a little fichu, just a triangular piece of cotton voile that I've hemmed by hand while watching telly.
If I stick to my plan of sewing every night, I might just finish in time for the
Your Wardrobe Unlock'd
Double Period Project deadline, and in an ideal world I'll get all the accessories made too ;o)
Right, when I summed up the year it seemed like there were quite a few projects that I never showed you guys pictures of, so I'm gonna get right on to that.
The 16th century flemish ensemble isn't technically finished, since the overgown still needs a few eyelets and a hem, but I, being clever for once, made the kirtle of wool too, so both can be worn as outer garments, meaning the kirtle and co have actually been worn to 3 events already.
Meaning I shoulda been a good girl and posted some pictures. ;o)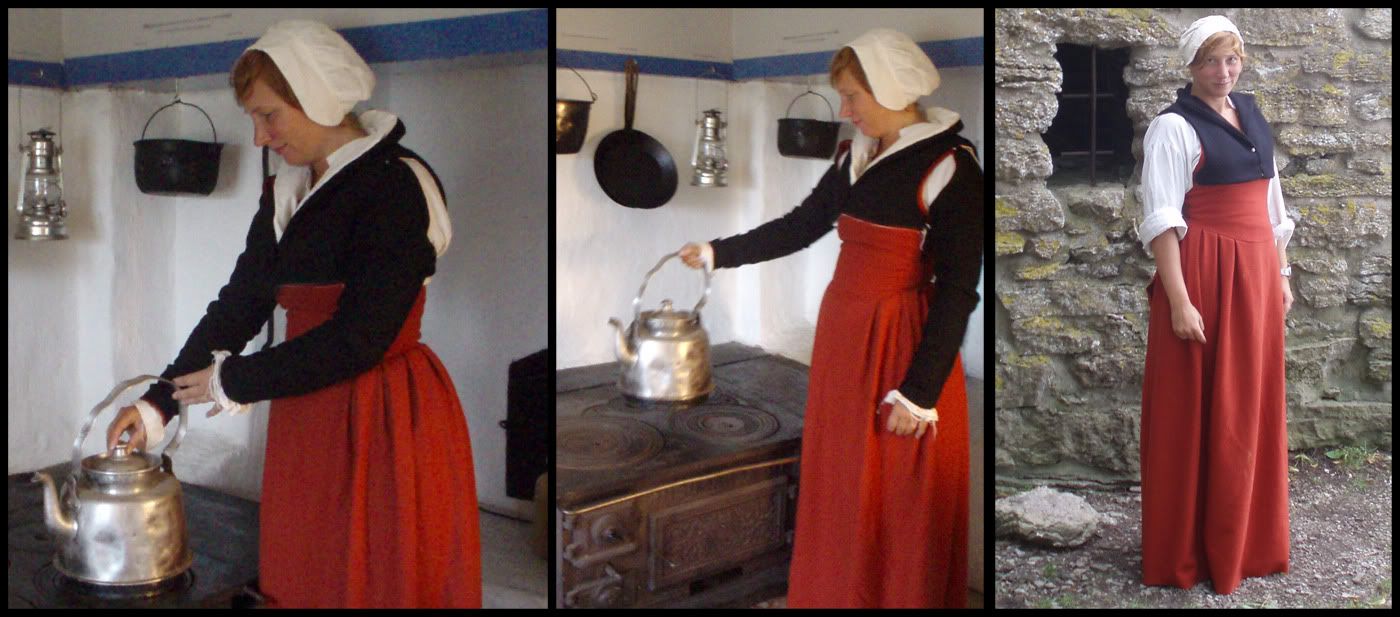 Everything is handsewn with waxed linen thread.
The first two pictures are a somewhat anachronistic homage to all the flemish women Aertsen painted at the stove or generally in the kitchen. The third pic, at Visby Medieval Week, is showing the versatility of removable sleeves and partlets. I really love that aspect of the flemish. Once I've finished the gown and its matching new blue sleeves there'll be lots of combo possiblities! =)